Lycored Campaign Spotlight: #rethinkbeautiful
By: Jacolyn, Account Director
To stay competitive in an ever-changing, fast-paced communications environment, brands are seeking effective, integrated marketing communications plans versus relying on one silo of the industry to achieve campaign success.
This holistic approach to combining Public Relations, Marketing and Advertising can produce the perfect combination of communications tactics that creates consistency in messaging and strongly helps to achieve brand campaign objectives and overall business goals.
Lycored, an international wellness company at the forefront of ingredient and nutrition supplements, looked to 5W Public Relations to develop and implement a 360-degree campaign that created a conversations around ingestible skincare as an essential part of skin health in the U.S. while promoting positive ideologies surrounding beauty from within and helping people love themselves more along the way.
5W and Lycored took a technical industry standard and turned it into a simple and relatable concept for consumers by breaking beauty out of its proverbial box and creating an emotional connection to ingestible skincare. Thus began the #rethinkbeautiful campaign – a multi-level campaign combining social media influencers, marketing and advertising videos and visuals, consumer activations and traditional media to both consumer and trade.
The exciting integrated campaign consisted of:
Social Media Influencer Program:To launch the campaign in August 2016, Lycored developed the 'Beauty is What You Make It' video showcasing individuals sharing what beauty means to them, creating the conversation that beauty comes from within. To promote the video, 5W developed a curated micro-influencer campaign and sourced on-brand influencers to share the video across Twitter, Facebook and Instagram along with the campaign hashtag, link to the video and campaign landing page to drive views and visitors.
Mobile Love Letter Activation:As an extension of the #rethinkbeautiful campaign, Lycored launched the "Letters of Love" Tour to inspire consumers to love themselves the way they love others and to show them that beauty comes from within. As a part of the tour, people were encouraged to write love letters to themselves that are mailed back when they least expect it. In conjunction with the Tour, a digital version of "Letters of Love" was launched on the designated campaign landing page.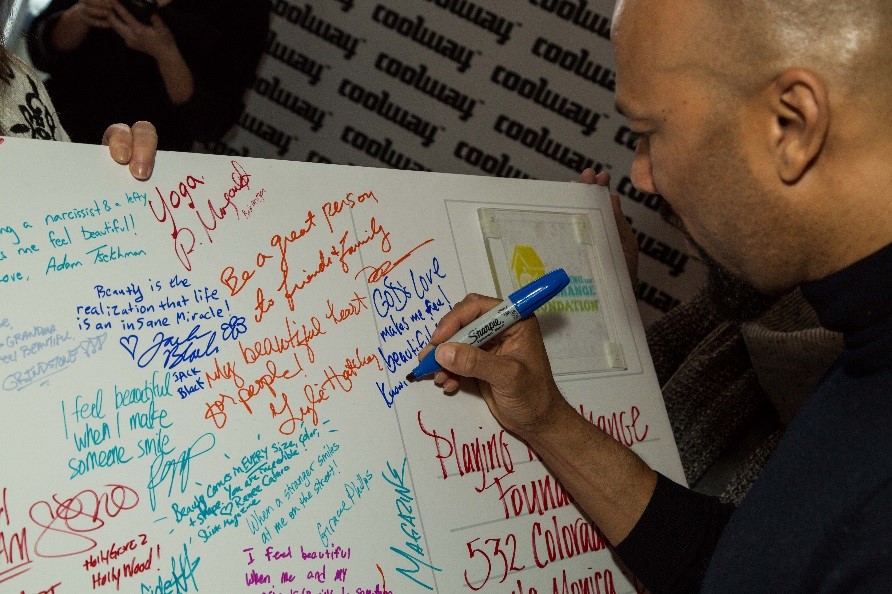 Valentine's Day Takeover:On Valentine's Day, 5W released the second campaign video "Love is Beautiful" that asked one simple question: "What do you love about yourself?" The video promoted self-love and empowered viewers to love and see the beauty in themselves the way they are able to see it in others, and then write themselves a love letter through the 'Letters for Love' digital link. Along with the video, Lycored launched over 200 ads in London with one phrase, "Your Heart Has No Limits," inviting viewers to join the #rethinkbeautiful movement.

Additional Campaign Tactics: At the start, a #rethinkbeautiful landing page was developed to have one location to drive consumers and industry insiders. In between larger campaign initiatives, editorial mailers are conducted with a branded "beauty box" consisting of elements that provide recipients with a foundation for helping them #rethinkbeautiful. Award winning study results of the Lycored ingestible skin health complex were also released and published in the British Journal of Dermatology, which found the complex has anti-aging and UV protection benefits.
Success in Numbers
The social influencer program achieved more than 410,000 video views, 2,600 likes/ reactions and 2,309 shares. Audiences posts more than 1,800 comments about beauty from within and ingestible skincare across all social media platforms on the individual influencer posts. 
To date, the mobile "Letters of Love" Tour has stopped in nine states, including two recent stops in 2018, and has inspired consumers and celebrities, ranging from Charlize Theron, Joshua Jackson and Jack Black, etc., to write over 6,000 love letter postcards.
The brand saw 288% growth in "Letters for Love" digital love letters and a 275% uptick in #rethinkbeautiful landing page visits through leveraging the Valentine's Day takeover across various media platforms, including sourcing positive news sites with the information and respective links.
From covering the individual components of the campaign, the Letters of Love Tour and the #rethinkbeautiful campaign as a whole, the message on ingestible skincare and beauty from within transpired into media wins in consumer beauty and celebrity outlets including Brit+Co, POPSUGAR, SELF, Good News Network, Entertainment Tonight and Hollywood Life, INC Magazine and trade media including Nutraceuticals World, Nutraceutical Business Review, NutraIngredients USA, Cosmetic Business, and more.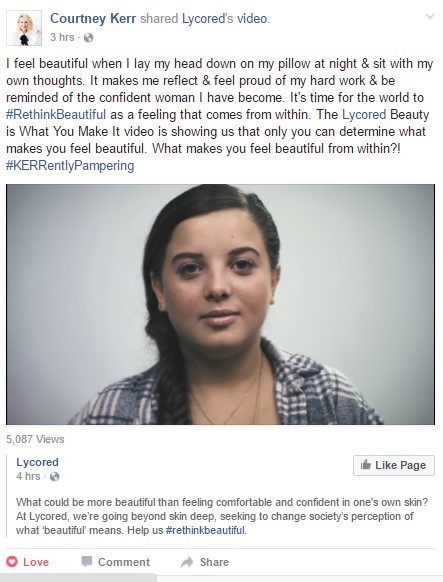 Building a Foundation for the Ingestible Skincare Market
From a business standpoint, throughout the campaign, Lycored received interest from multiple prospective business partners who became aware of the #rethinkbeautiful campaign and Letters of Love Tour, and were interested in potentially distributing Lycoderm to make it available to consumers. Likewise, the overall ingestible skincare category has grown rapidly due to the shift in consumer perceptions stemming from the campaign.
Industry Campaign Awards
Notably, Lycored won a trade industry award from Nutritional Outlook, being named one of four "Best of 2017" winners within the 'Ingredient Supplier/Service Provider' category, specifically as a result of the #rethinkbeautiful campaign achievements. 5W Public Relations was also nominated for a 2017 PR News Agency Elite Award in the Integrated Communications category for our work on this campaign.