PR Recap: Trends from the World's Largest Independent Beauty Trade Show, Indie Beauty Expo
By: 5W Beauty Division
As our beauty, wellness and grooming team stepped foot into this this year's Indie Beauty Expo in NYC we experienced immediate excitement, awe and delight. Vibrant colors, incredible aromas, ingredient innovation and beauty talk with category pioneers filled the room. We were like kids in a candy shop – The biggest question was where to begin?! With a record-setting 227 independent beauty exhibitors, the show offered consumers, press and buyers a look into a plethora of emerging brands offering unique spins on categories including, skin care, cosmetics, nail art, hair care, ingestibles, and more.
5W Public Relations: Indie Beauty Expo 2017 from 5WPR / 5W Public Relations on Vimeo.
5W's Beauty Division had the honor of representing Indie Beauty Expo (IBE) for its third annual New York show – the most expansive and successful show yet from Aug. 22-24. The 3-day show consisted of segments created for Brands, Buyers, Press and Shoppers – CONNECT, SHOP and TRADE INDIE – which attracted more than 2,000 attendees cumulatively.
The first day, CONNECT INDIE, was held on Aug. 22 at Skylight Modern NYC and focused on education for emerging beauty entrepreneurs with programming that included Indie Essentials structured learning courses in the areas of finance, retail and media. At CONNECT, I had the opportunity to host a PR 101 panel alongside top tier editors from Allure, WWD, Racked and Well + Good – providing key insights and tips for entrepreneurs looking to achieve awareness via media relations. All panelists were very passionate about the indie beauty category and the unique stories of the entrepreneurs behind the brands.
Following CONNECT INDIE, a press preview was held on Aug. 23 at Skylight Clarkson Sq. and allowed key members of press to peruse the floor for the latest in indie beauty. 5W secured over 300 members of the press from leading trade and consumer outlets including The New York Times, WWD, Today Show, ELLE, Town & Country – the list goes on. The exciting shopping event open to the general public, SHOP INDIE, immediately followed and attracted more than 1,500 consumers who were able to browse and shop, all while sipping cocktails, crafting flower crowns, and more. The show concluded with TRADE INDIE on Aug. 24 that attracted over 500 buyers.
The indie beauty craze has experienced explosive growth worldwide and these beauty pioneers continue to be on the rise. The brands at IBE NY 2017 certainly didn't disappoint, so trendspotting was a necessity. Here are some notable trends present throughout the show: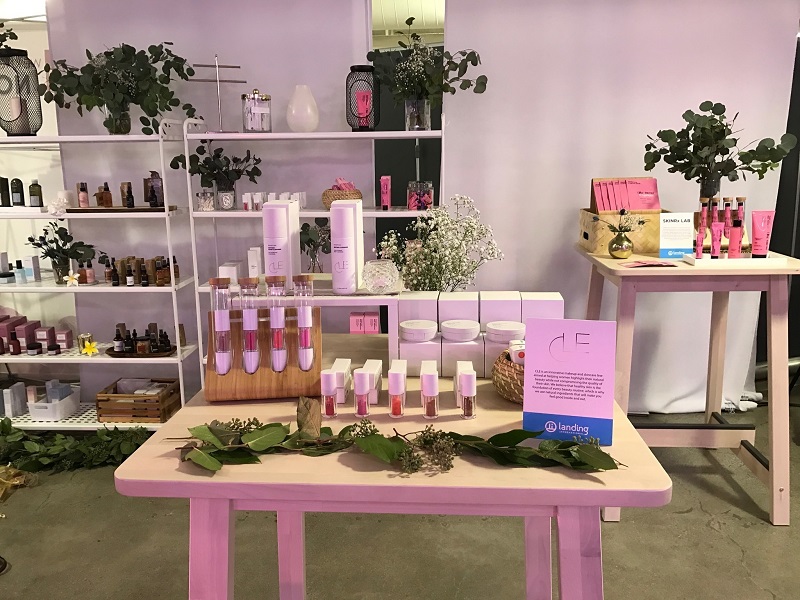 Quinoa in skincare
Quinoa isn't just beneficial for your next meal – it contains the vitamins, proteins and antioxidants skin needs to look its best. Exhibitor Zue Beauty uses quinoa, and also harvests the quinoa from Indigenous people in Peru. Spa brand Aypa uses quinoa, blue corn, and also indigenous ingredients from Peru.
Sheet Masks
Sheet masks are here to stay! A brand that everyone had their eyes on was Petite Amie, the French term for girlfriend. From new Emoji "baby masque" with hydrolyzed rice protein and hydrolyzed collagen to help erase fine lines and wrinkles that brings back baby soft skin, to a lip treatment mask to moisturize and smoothen the lip for a younger and more kissable looking, their products are to naturally formulate skin with safety and efficacy. In addition, Smoothie Beauty is taking the edible beauty trend to the next level with their 100% organic food-based face masks that are fresh, additive-free, refrigerated and sustainable.
Nighttime Beauty
With indie beauty brands, there is such a thing as "beauty rest." Moonlit Skincare is dedicated to night-time skincare. They sync up natural, potent ingredients with the power of sleep and are passionate about creating a more welcome sleep space. Their Midnight Shift Overnight Face Oil is infused with the relaxing scent of lavender to gently calm your central nervous system. Emerging brand Florapy who specializes in 100% coconut sheet masks, showcased their Sweet Dreams Sleep Mask that encourages you to take a breath, relax, feel the stress melt away and prepare for sweet dreams with the energy of Yarrow and Lavender. The lavender aromatherapy empowers relaxation, calms the nerves and promotes sleep. 
Natural/Clean Beauty
Roughly 161 out of 227 that exhibited at IBE would be considered clean and green – it was eco-beauty heaven! And these brands didn't just fall into the typical skin care, hair care, color cosmetics categories. Brands like Freedom and Honestly Phresh showcased all-natural deodorants that do everything traditional antiperspirants do, but better and safer. Ojai Wild introduced their collection of natural fragrances made from native California botanicals, resins, woods and roots, by artisan perfumer Janna Sheehan. As more and more consumers are becoming eco-conscious in all aspects of their lives, it was uplifting to see indie beauty jumping on that bandwagon.
Beauty Ingestibles
As consumers are becoming more knowledgeable that what you put inside of your body is just – if not more – important than topical products, brands are following suit and there's been a escalation in beauty ingestibles. At this year's show, a few notable brands emerged: Dope Naturally is your beauty counter on your kitchen counter and the purest plant based, energy superfood blend available on the market. Swhey's Organic Multivitamin & Green Superfood Powder, with just 44 calories per serving, is a complex superfood loaded with everything to keep a busy woman in top shape.
Male Grooming
With the male grooming industry worth close to $50bn last year, men's grooming brands are certainly on the rise. This year's IBE showcased 5 incredible indie beauty brands offering men an unprecedented grooming experience in masculine packaging. The 18.21 Man Made namesake was inspired by the 18th and 21st amendments of the United States Constitution and offers hair supplies for men inspired by the roaring spirit of swanky Prohibition era speak easy lounges. Given the sleek, masculine packaging, BIG BOY drew a lot of attention from passersby. Drawing inspiration from its Sicilian origins, BIG BOY products combine rich, natural ingredients like Sicilian olive and almond oil, bees wax and shea oil to create superior skin and hair care products that work in harmony with the skin's natural elements.
Female Empowerment
An astounding 85% of brands at this year's IBE NY 2017 were women-owned, further proving that strong women are on the forefront of innovation in the beauty industry. A few notable brands lead by women include A Complete, a skincare company founded by Angelica Fuentes, one of Latin America's most prominent businesswomen and philanthropists, which offers a 5-step 3-minute skincare routine for women on-the-go, Dana Jackson from Beneath Your Mask wanted the natural beauty of the skin to come through, so she sought to create products that were safe, non-irritating, and non-toxic for the skin to absorb and that would not challenge the immune system, and Thorn & Bloom's Jennifer Botto who created a company specializing in artisanal perfumery handcrafting luxury botanical fragrances using the finest natural aromatics.