My Favorite Work Perk: Convenient Showers and Changing Rooms
5W Public Relations employees are passionate about their work and their interests. Agency life is busy, and we know how important it is for us all to take a break and pursue the hobbies we love in our free time. We're so happy to hear that one of our facilities – the showers – has made life so much easier for Marijana G., one of our Consumer executives, who says the office showers have enabled her to make the most of her free time.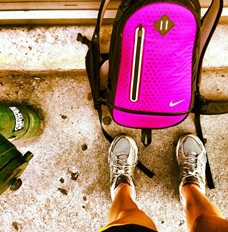 Time is something Marijana values and guards closely. As the Associate Vice President of our Food & Beverage Division, her days are jam packed with exciting activities – from time spent in her office developing needle-moving programming to busy hours off-site with clients and media. She thrives on her fast paced days, but time flies and she admittedly wishes she had more.
When we moved into the Helmsley Building, the first thing most of us noticed was the stunning skyline views. Marijana noticed the showers. See, in her personal life she dedicates most of her time to loved ones, travel and sports – including hiking, kayaking, and competing in marathons. Her marathon training schedule used to consist of late night runs from the office to her apartment and detours in between, requiring her to be creative in scheduling everything else in her personal life, from time with friends and family, to dinners, errands and more. To her, the office showers quickly signaled "MORE TIME!" and the luxury of being able to run to the office in the mornings and have an easily accessible place to get ready before the work day kicked off. Life changing, she called it.
Today, Marijana runs daily to/from the office with her trusty backpack full of the day's clothing and essentials. She's able to cut out her subway commutes and invest that time into running – a more enjoyable and beneficial experience for her. She starts her days off feeling more energized and accomplished, and feels better prepared for her athletic pursuits. To think, all this because of a couple of office showers.
[ad_2]