Keep Track of Community Activity & Moderation in Helprace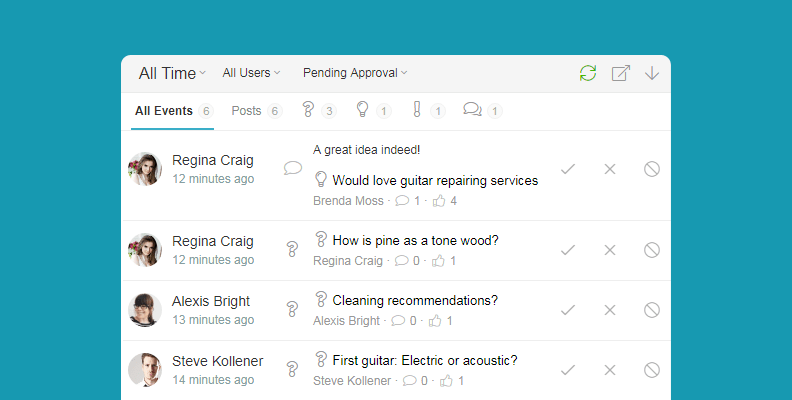 Communities are valuable for your teams and customers and fresh content keeps them alive. But that's only the case when content quality is high and other users can quickly find it!
We're unleashing new tools that allow you to do just that.
Get a bird's eye view of your community
Introducing Helprace Activity. Now you'll be able to know what's been recently posted in your community or focus on a particular time period.
Furthermore, we made it really easy to use. You can turn on real-time updates or set post preview options so you can approve, preview or modify any conversation.
Quickly know what's in your moderation queue with a handy counter badge. It works just like the one for tickets and updates in real time of any new topics, replies or comments posted by your users:
What is moderation and how does it work?
Support portal moderation
We're giving you much-needed heads up by allowing you to review content easily before (or after) it gets posted in your portal.
There's also real-time updates so you're instantly notified of any new post as it comes in – and take the necessary action (preview, open in new tab, approve, delete, spam, etc).
We've purposely designed to keep the moderation feed simple, without any excess noise. Here's how moderation works in Helprace:
Disable moderation
Remove moderation options altogether
Pre-moderation
Approve topics in moderation queue after they are posted, before they go live
Post-moderation
Have new posts published but have them appear in the moderation queue for review
Got loads of messages that require approval or a way to the spam bin? You can quickly apply bulk actions to selected messages.
Support portal activity
You don't need to leave your workspace to know what's going on in your community. Be aware of every little thing that happens – in real time – including votes, follows and users joining your portal.
Community activity
Keep tabs on every article, question, idea, problem or praise posted. Manage replies and comments to these replies – all with the handy "Posts" tab. Approve or reject them right then and there.
You can also narrow down on specific time period, space type, or user type.
Knowledge Base activity
The knowledge base (also known as Docs) also benefits from the activity feed. Keep track of things like comments, upvotes and downvotes on your articles. You can also narrow down on specific time period, space type, or user type.
And if you'd like to learn more, you can learn more about moderation and the different view filters and options in our documentation.
Thoughts?
If you have an idea for something you'd like to see us make, give it a share on our portal.
We'll keep you posted on its status! We're always open at support.helprace.com.