Researchers Discover Flaw in Signal's Disappearing Messages Related to Mac Notification Center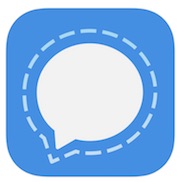 Signal's Mac app displays recently received messages in the Notification Center on macOS, and this feature could compromise a user's disappearing private messages, as discovered by security researcher Alec Muffett and reported by Motherboard.
One of Signal's main advantages is its ability to send disappearing messages, so that after a predetermined amount of time the message is deleted from the app.
Muffett pointed out on Twitter this week that Signal's default Mac app settings somewhat defy this security measure due to the way Macs handle notifications. So, even if you send a self-destructing message within the Signal app, the messages remain on the recipient's Mac Notification Center, displaying your name and message details. Muffett was running macOS 10.13.4 and Signal version 1.9.0.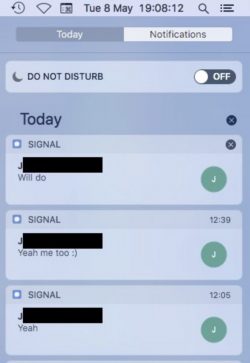 #HEADSUP: #Security Issue in #Signal. If you are using the @signalapp desktop app for Mac, check your notifications bar; messages get copied there and they seem to persist — even if they are "disappearing" messages which have been deleted/expunged from the app. pic.twitter.com/CVVi7rfLoY

— Alec Muffett (@AlecMuffett) May 8, 2018
Mac security researcher Patrick Wardle then investigated the issue further, discovering that the "deleted" Signal messages that remain in the Notification Center are saved on the Mac's disk inside the operating system. While this is true of any app that displays notifications, it's particularly troublesome for Signal users in need of high-level security, like government workers or journalists.
Any malicious third parties would still need to get their hands on your Mac to get into your message history, so as Motherboard pointed out, "this is not a major threat for most people." Still, this could be a major security risk for high-level Signal users, since this means that any disappearing messages that popped up in Notification Center can be recovered later, "even after they are gone within the Signal app."
Wardle summed up his findings:

In short, anything that gets displayed as a notification (yes, including 'disappearing' Signal messages) in the macOS Notification Center, is recorded by the OS.

If the application wants the item to be removed from the Notification Center, it must ensure that the alert is dismissed by the user or programmatically! However, it is not clear that this also 'expunges' the notifications (and the their contents) from the notification database…i'm guessing not! If this is the case, Signal may have to avoid generating notifications (containing the message body) for disappearing messages…
Wardle said that Signal's iOS app does not appear to have a similar issue at this time, although the app "should be investigated." Of course, any Signal Mac user who is worried about potential privacy risks can navigate to Signal's Preferences menu on the top-left corner of the screen when the app is open, click Notifications, and "Disable notifications."
Tag: Signal
Discuss this article in our forums


[ad_2]