Apple Exploring North Carolina, Northern Virginia for New Campus
For the last several months, Apple has been exploring locations for a new campus focusing on technical support, and according to new reports, sites in North Carolina and Northern Virginia are under consideration.
The Washington Post says Apple has explored opening a campus for 20,000 employees in Northern Virginia, an area Amazon is also considering for its new campus.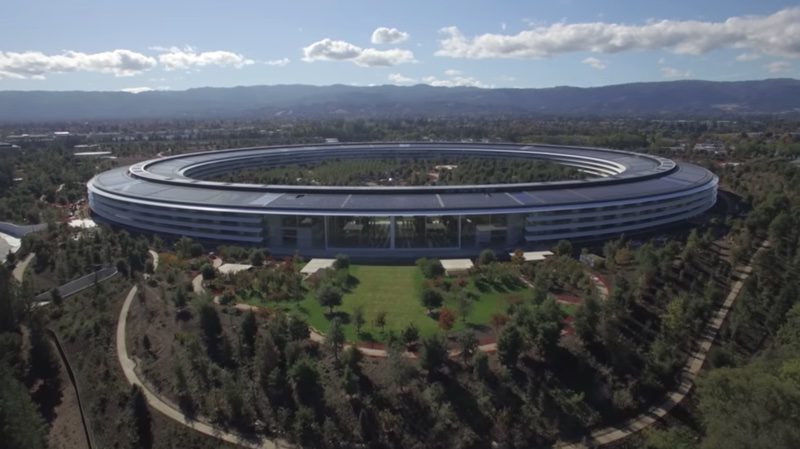 Image of Apple Park via drone pilot Duncan Sinfield

Apple told economic development officials in Northern Virginia that it is seeking four million square feet of space to accommodate 20,000 jobs, and officials proposed several potential sites.
The sites proposed by Northam's staff for Apple include office buildings and development sites in Crystal City, privately owned Loudoun County land near the Center for Innovative Technology and the Scotts Run development in Tysons.

Two of those locations, Crystal City and the Loudoun land, are part of sites Northam also pitched to Amazon. Both companies plan to make a decision this year.
Separately, the Triangle Business Journal says that Apple is considering establishing its new campus in Research Triangle Park in North Carolina. Research Triangle Park, a 22 million square foot research park, has become an attractive site for tech companies and is known as North Carolina's technology hub due to its proximity to NC State, the University of North Carolina, and Duke University.
Apple CEO Tim Cook reportedly met with North Carolina governor Roy Cooper and commerce secretary Tony Copeland while Cook was in town over the weekend to give the commencement speech at Duke University.
Apple in January said that it would invest $350 billion in the U.S. economy and create 20,000 jobs over the next five years, partially through the launch of a fourth major campus. At the time, Apple said that the campus would not be built in California or Texas, which is where its current campuses are located.
The company declined to provide additional details on the campus' location, and has since been exploring its options and negotiating with various states for tax cuts and other benefits.
Apple's upcoming campus will not be like its major corporate campuses in Northern California, One Infinite Loop and Apple Park, as it is expected to be focused on housing customer service and technical support employees.
Apple CEO Tim Cook in March said that Apple is "not doing the beauty contest thing" for its new campus, taking a dig at Amazon's decision to announce 20 finalist cities as the potential locations for its own new campus. "That's not Apple," he said.
"From our point of view, we didn't want to create this contest, because I think what comes out of that is you wind up putting people through a ton of work to select one, so that is a case where you have a winner and a lot of losers. I don't like that," Cook added at the time.
Discuss this article in our forums


[ad_2]