watchOS 5 Wishlist: Features MacRumors Readers Want to See Introduced in the Next Apple Watch Software Update
The Worldwide Developers Conference is just about a week and a half away, and while we've heard some rumors on what we might see in iOS 12 and macOS 10.14, watchOS 5, the next-generation software update for the Apple Watch, remains a total mystery.
With no idea what to expect, we asked MacRumors readers what new features and tweaks they would most like to see in the watchOS 5 update.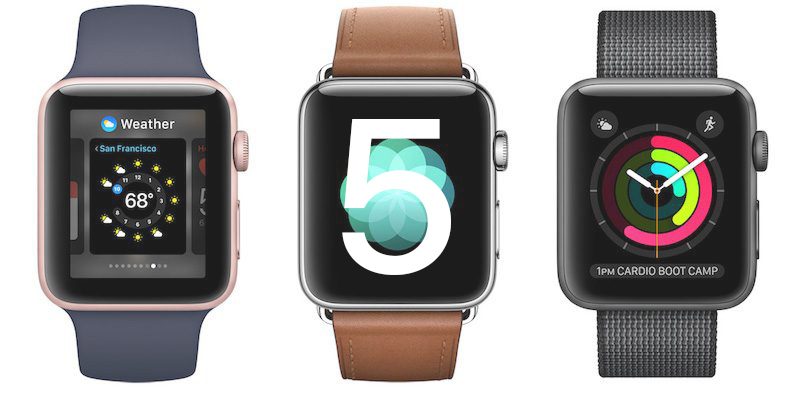 Live step count complication – MacRumors reader Breezygirl would like to see Apple add a live step complication that lets you see how many steps you've completed at a glance, rather than just a complication that lets you know how close you've come to hitting your activity ring goal.
Third-party watch faces – Third-party watch faces are highly desired by most Apple Watch owners on the forums, but so far, Apple has kept the Apple Watch locked down to control the design and interface of the device. As MacRumors reader Relentless Power suggests, a watch face store that includes a variety of watch faces from third-party developers and companies would be great.
Activity app improvements – Right now, the Activity app requires you to hit your goals each and every day to keep a streak going, which can be difficult at times and allows for no rest. MacRumors reader SoYoung would like to be able to set rest days.
Workout app improvements – In the same vein, MacRumors reader Rbart is hoping for a better workout app for running that's closer in design to Strava with additional statistics, a complete history, best performances, and more. Honglong1976, meanwhile, would like to see automatic activity detection to alleviate the need to start a workout.
Podcasts for Apple Watch – Multiple MacRumors readers would like to see a dedicated Podcasts app on the Apple Watch for listening to podcasts on the wrist-worn device.
Off-wrist Notifications indicator – MacRumors reader Lennyvalentin would like to see the Apple Watch better able to keep track of incoming notifications even when off the wrist, with those notifications still showing up but with an indication to note that they were received while the Apple Watch was idle.
Proximity notifications – There's no way to set the Apple Watch to ping when it goes out of range of the iPhone, a feature MacRumors reader Justiny would like to see as a way to keep track of the iPhone and get a reminder if it's left behind.
Sleep tracking – This one is probably a long shot given that Apple suggests people charge their Apple Watches at night, but MacRumors readers would like to see native sleep tracking capabilities.
Always-on display – Given battery constraints, Apple has never implemented an always-on display for the Apple Watch, which is another highly desired feature. The Apple Watch display comes on when the wrist is raised, but it would be nice to have always-on access to the time as is possible with a traditional watch.
Better health analysis and suggestions – MacRumors reader Bluecoast would like to see Apple better take advantage of the health information it collects with the watch to add recommendations and coaching for those who are aiming to meet health goals, as well as deeper analysis.
Is there something you're hoping to see in watchOS 5 that didn't make it on our list? Make sure to let us know in the comments.
Related Roundups: Apple Watch, watchOS 4
Buyer's Guide: Apple Watch (Neutral)
Discuss this article in our forums


[ad_2]