YoastCon 2019: Get your early bird ticket NOW!
YoastCon 2019 is going to be epic. On February 7 & 8, we're hosting Europe's best SEO and marketing conference in the Netherlands! It'll take place in the Vereeniging in Nijmegen, just around the corner of our Yoast offices. Let me tell you all about our amazing speakers and the chock full schedule we're currently working on. You do not want to miss this!
Buy your ticket before July 1 and get it for 449 euro instead of 499 euro.
Speakers
We're still working on our schedule, but we can already confirm some amazing speakers. Rand Fishkin (founder of Moz and Spaktoro) is going to keynote at YoastCon 2019. Els Aerts (of AG consult) and Purna Virji (of Microsoft) also promised to come as well. And what about Geraldine DeRuiter (of Everywhereist) and our very own Joost de Valk and Jono Alderson?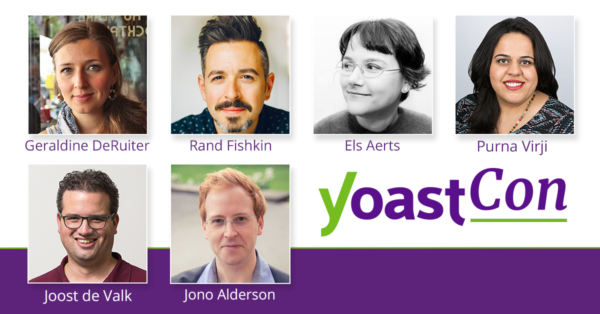 Hot of the press: Aleyda Solis (European Search Personality of 2018, founder of Orainti and blogger for Moz and Search Engine Land), will take the stage too! Get to know all YoastCon speakers.
Schedule
We want to give a stage to the very best of the SEO industry. We'll have 9 awesome keynote speakers (two of which we're currently persuading to come and speak for you!).
In addition to listening to these world-class keynote speakers, you can join in three rounds of practical workshops. We'll offer workshops on the Yoast SEO plugin, site structure, keyword research, SEO copywriting and reviewing your own website. Workshops will be offered both in Dutch and English. Team Yoast will prepare and lead the workshops. As the groups will be small, you'll have lots of opportunity to ask practical questions.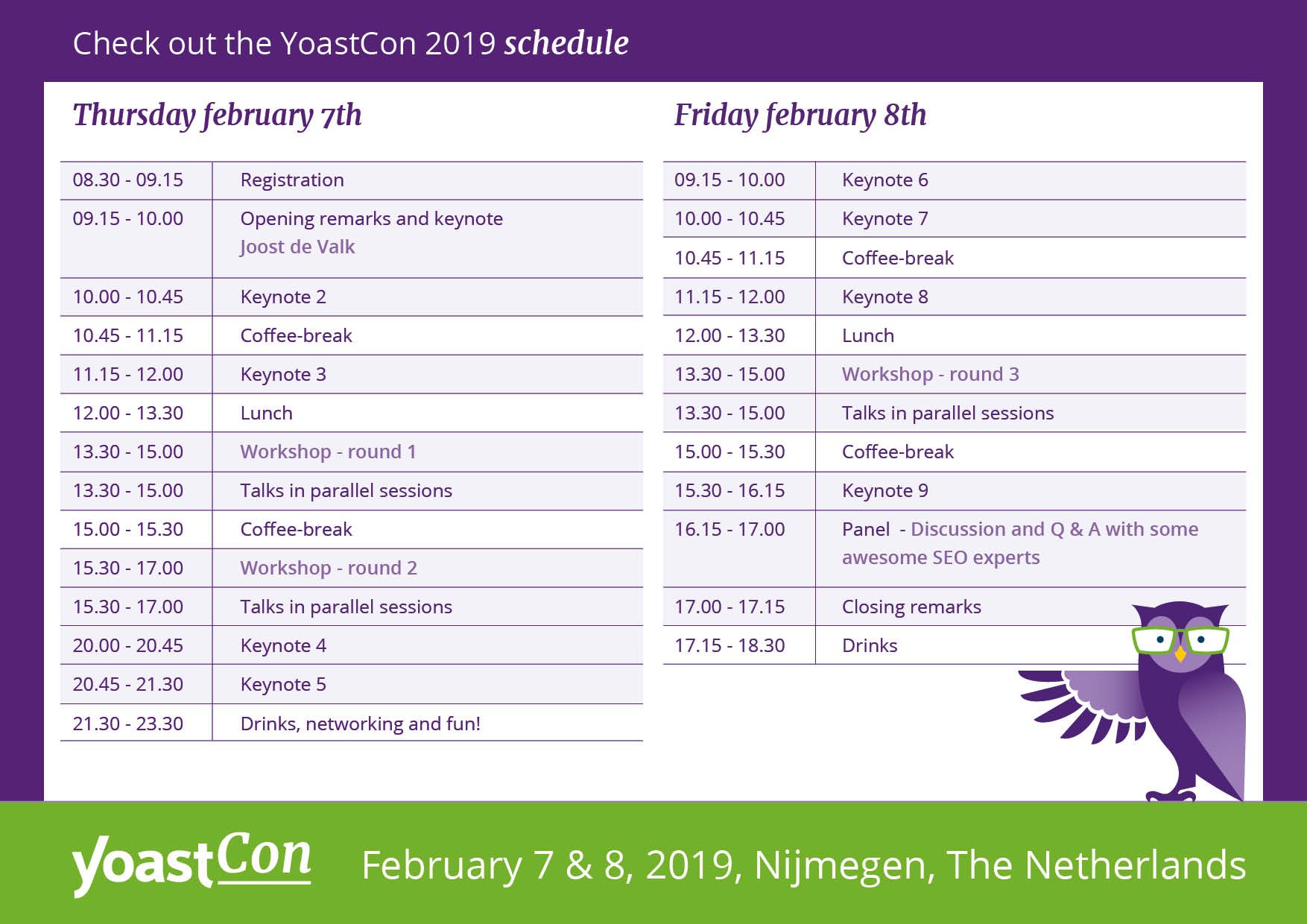 Call for speakers
We still have room in our two-day schedule to fit even more awesome speakers! Are you an expert in the field of SEO, marketing, UX, copywriting or development? Let us know and apply to speak at YoastCon 2019. We're looking for speakers to shine on our stage! Check out our call for speakers for more information.
Venue and ticket information
YoastCon will take place at 'de Vereeniging' in Nijmegen, a beautiful old venue nearby Nijmegen Central Station. Tickets are 499 euro – or 449 if you get them before July 1! – and include full access to all talks, three workshops, lunch on both days, coffee and drinks on Thursday night and Friday afternoon. We'll make sure you'll leave with lots of new ideas on how to improve your marketing and SEO strategy.
More information?
Want to know more about YoastCon 2019? Read more about it on our YoastCon page. And, do not forget to check out our video impression of YoastCon 2017! That'll get you in the perfect mood for the next YoastCon.
Make sure to buy your ticket before July 1 and profit from a 50 euro discount! And, make sure to reserve your hotelroom as well. Due to multiple events, hotel rooms are rather scarce during YoastCon. Don't miss out and buy your tickets today!
See you at YoastCon!
The post YoastCon 2019: Get your early bird ticket NOW! appeared first on Yoast.
[ad_2]