All about Google's knowledge panels
Last week, Google announced a new feature in their knowledge panels. You're now able to verify your branded or personal panel and add or change some of the information in it. But what exactly are knowledge panels? Are these useful? Should your company have one?  I'll tell you all about it in this post!
New to SEO? Learn the Basics of SEO in our Basic SEO course »
Info
What is a knowledge panel?
Knowledge panels contain information about businesses or people. Such a panel appears on the right in the desktop search results. It contains information about the company, for instance when the company was founded and where the company is situated. A panel also contains pictures.
There are two types of knowledge panels: local panels and branded/personal panels. Google calls both of these knowledge panels, but the process of verifying them is totally different. For the local panels, verification was already possible through Google My Business. The new feature actually only applies to the branded/personal panels.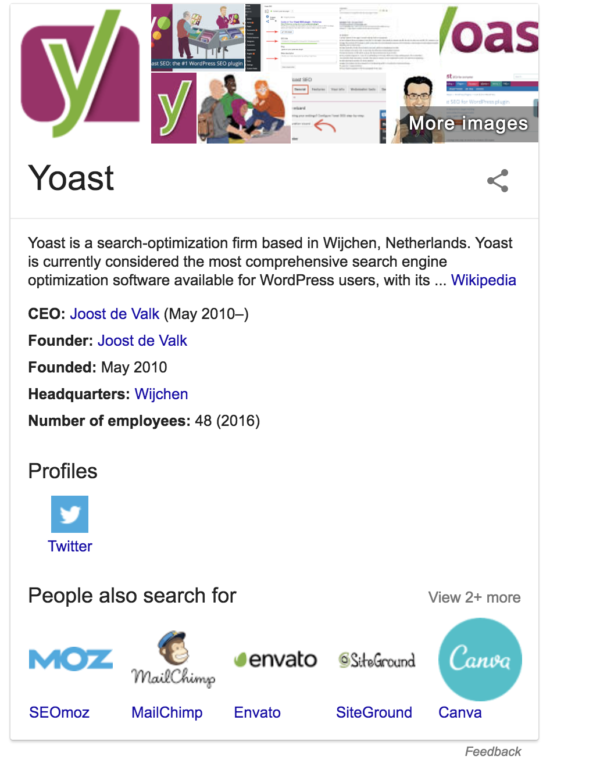 Why should we care about knowledge panels?
If you want to be found on your brand or business name, a knowledge panel is really useful! If Google decides to show your knowledge panel,  you pretty much dominate the search results on the right side of the screen in desktop search. In mobile, the knowledge panel will appear between other results but is pretty dominant as well. A knowledge panel will thus make sure your company or brand will stand out in the search results when people are specifically searching for it. That'll give you lots and lots of clicks. And this makes sense too: if people are searching for your brand name, they want to find your website.
How do you get a knowledge panel for your business?
As with other types of search results, Google will decide whether or not it'll show a knowledge panel in the search results. If you're a local business, you can do some things to increase your chances to rank with a knowledge panel. For the branded and personal panels, it is much harder to obtain such a knowledge panel.
Local panels
If you want a chance of Google displaying a local panel for your business, the first step is to open a Google My Business account.  You'll then be able to verify that you are the owner of your business. After that, you can add or edit all relevant information about your business, such as address information, opening hours and photos.
In the end, Google will decide whether or not to show a knowledge panel. Relevance, distance, and the prominence of the business are all important aspects for Google in determining if it'll show knowledge panels. Making sure your website is really awesome and working on a high-authority domain could enhance your chances.
Read more: 'Improve your local SEO with Google My Business' »
Branded/personal panels
It is not possible to apply for a branded or personal panel. Google will decide whether or not your brand is worthy of a knowledge panel.  If your brand has enough authority, a knowledge panel will appear. Brands and people who have Wikipedia pages, often have knowledge panels as well. For Yoast, we do have a knowledge panel.  Joost de Valk also has a personal knowledge panel. I do not have a knowledge panel. I'll keep working on that level of authority.
How to verify your panel
So, Google's news from last week was that people could now verify their brand or personal knowledge panel. Verifying is not all that hard. If you have a knowledge panel, make sure to verify it. Follow the steps Google has outlined for you in this article. You need to log in to your Google account and sign in to one of your official sites or profiles to get verification for your business. For Yoast, it was pretty easy.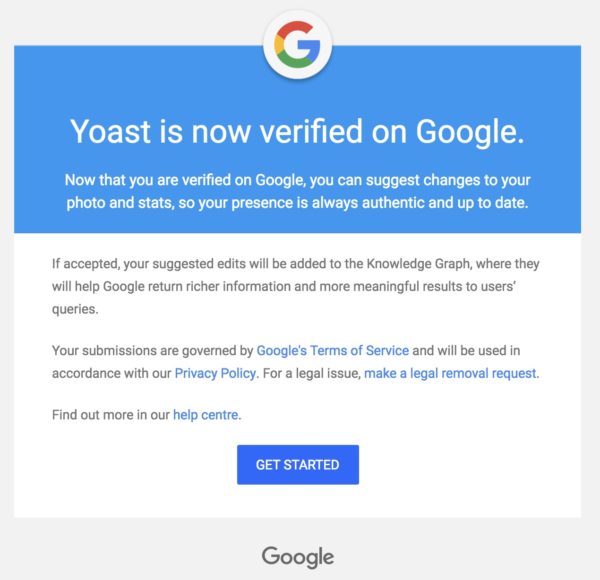 Once verified, you'll be able to make changes in the knowledge panel and make sure it looks the way you want it to look.
Conclusion on knowledge panels
Knowledge panels are a great asset to have in the search results. For local panels, you should make sure you're doing everything you can to get a knowledge panel. For branded or personal knowledge panels, it is much harder to influence your chances of getting one. It all depends on your level of authority, and that's something that probably won't be fixed overnight.
Keep reading: 'Ultimate guide to small business SEO' »
The post All about Google's knowledge panels appeared first on Yoast.
[ad_2]