Try your free SEO lessons today: Yoast Academy trials available now
Want to learn how to make your site rank high? Get better at seo and practice your skills in a fun way? We think our Yoast Academy SEO courses are exactly what you need, but maybe you're not so sure yet. You can now try them out, for free! You can get free access to some of our lessons now to test if our SEO courses fit your needs. What are you waiting for? Get your free trial now!
How do I get a free trial?
Just go to my.yoast.com and create an account, if you don't have one yet. Log in and go to courses. You'll see an overview of all the SEO courses we offer. You'll notice a purple label saying that a free trial is available: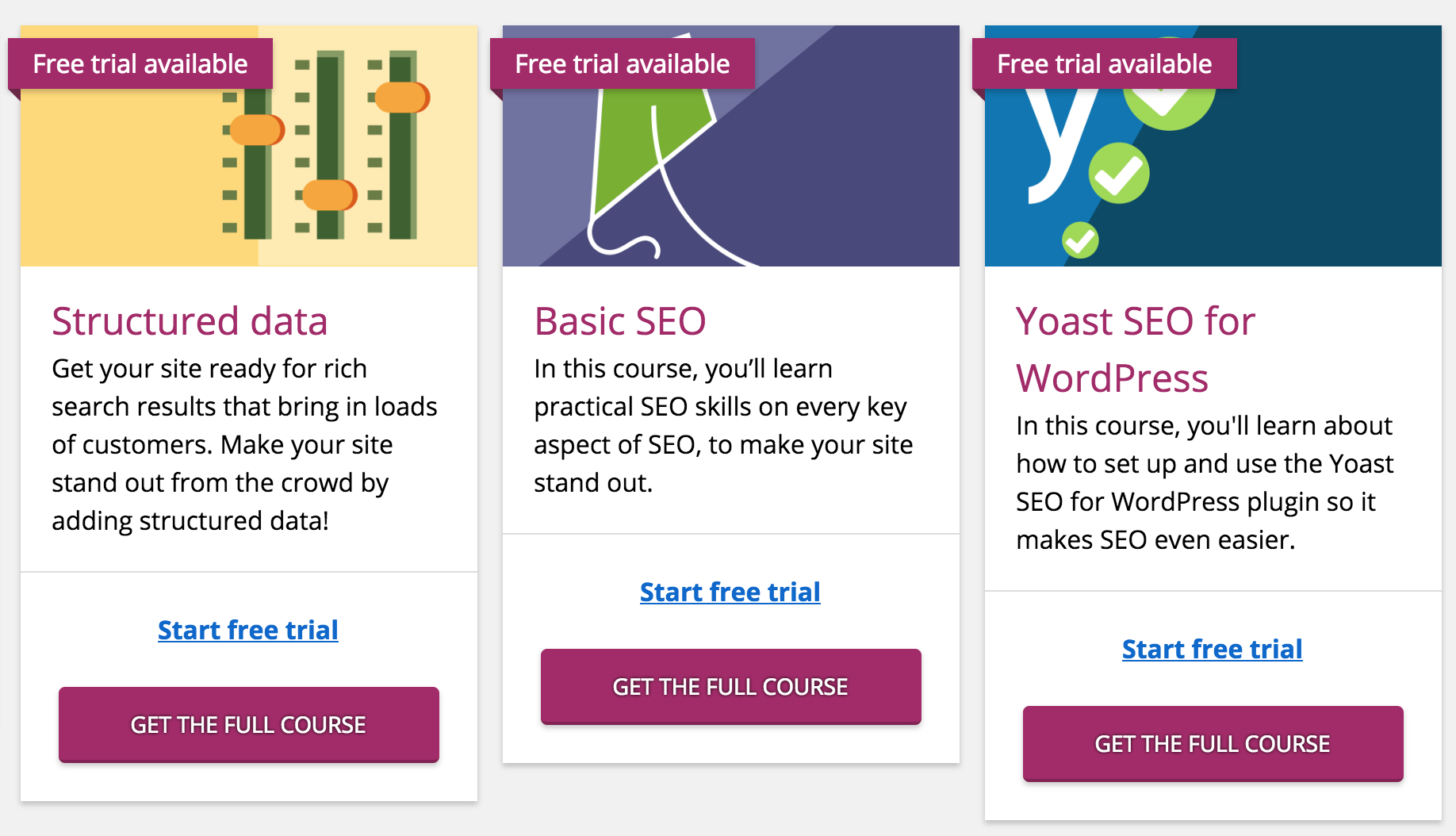 Click on 'Start free trial' and get a taste of the SEO training you're interested in. Not sure which training you'd like to take? You can check out a lesson of all courses with the 'Free trial available' label.
Which lessons can I try?
All of them! For instance, you can try a sampling of our Basic SEO training, the Yoast SEO for WordPress training or Structured data training. Basic SEO is a must-take training if you want to learn about all aspects that influence your site's rankings. The Yoast SEO for WordPress training focuses on how to configure Yoast SEO to get the best out of it for your website. Our Structured Data training is what you need if you want to get those coveted rich results that make your page stand out in the search results.
Is it for me?
Everyone can try out these SEO lessons from Yoast Academy. Even if you've already bought a course or if you did the free Yoast SEO for beginners training you can try out another one. Just log in to MyYoast and see if that other SEO training meets your expectations.
Why should I try an SEO training at Yoast Academy?
SEO experts and educational professionals develop our courses. This means we know all about creating websites that rank and how to teach you how to achieve that. We know what kind of issues you encounter as a website owner, and we love to help you develop the skills to overcome these. On top of that, our quizzes are just plain fun. Even SEO experts can enjoy our courses. So what's stopping you? Try a free trial lesson now!
Let us know!
Did you check out one of our lessons? We'd like to hear what you think. Enjoyed it? Or left with some questions? Drop them in the comments below!
The post Try your free SEO lessons today: Yoast Academy trials available now appeared first on Yoast.