Happy 10th Anniversary, App Store!
Today marks the 10th anniversary of the App Store for iOS devices, which launched on July 10, 2008, just a day before the iPhone 3G came out. The iPhone 3G was the device Apple used to debut the App Store, with the new functionality built into the iPhone 3G's operating system, iPhone OS 2.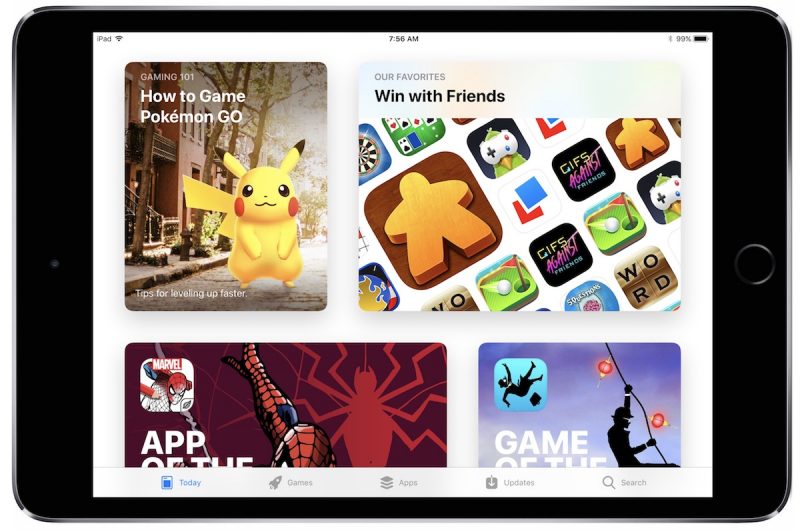 Prior to the launch of the App Store, Apple in March of 2008 introduced an iPhone SDK, providing early app developers with the tools to build the first third-party apps. On stage at the announcement event, demo apps included EA's Spore Origins for the iPhone, AIM, Sega's Super Monkey Ball, and a Salesforce app, and within a matter of days, the original iPhone SDK had been downloaded more than 100,000 times.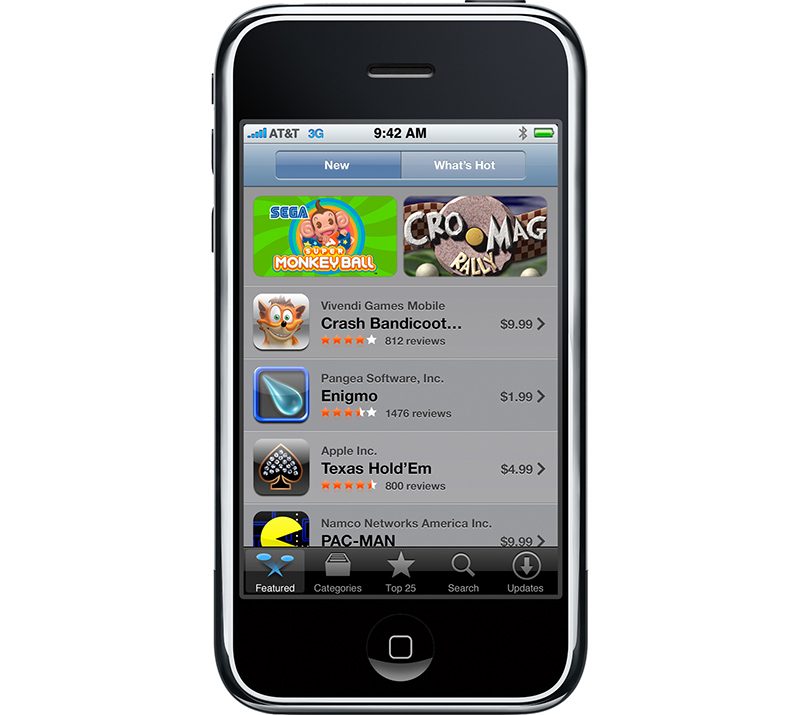 When the App Store opened up in July 2008, 500 third-party apps were ready to download, and in less than a week, Apple announced 10 million apps had been downloaded. From Apple CEO Steve Jobs:
"The App Store is a grand slam, with a staggering 10 million applications downloaded in just three days. Developers have created some extraordinary applications, and the App Store can wirelessly deliver them to every iPhone and iPod touch user instantly."
Since that initial debut, the App Store has evolved on a yearly basis, with Apple continually refining and revamping the App Store experience for both consumers and developers. We thought we'd explore the App Store's history, highlighting the major evolutionary steps (and a few fun facts) that have ultimately transformed the way we use our iOS devices.
– July 10, 2008 – The App Store launches with 500 apps available, 25 percent of which were free, and 75 percent that customers had to purchase.



– August 20, 2008 – A Koi Pond app becomes the number one selling app in the App Store.
– September 3, 2008 – Apple rejects a "Pull My Finger" app for limited utility, giving us a first taste of the (sometimes confusing and conflicting) curation and moderation policies that have since governed the App Store. Other early app rejections were for reasons that included excessive data transfer, pornography/nudity, duplicating iPhone features, objectionable words (in a dictionary app), and fake reviews.
– September 18, 2008 – Trism, one of the first popular games in the App Store, generates $250,000 in revenue in two months. Trism 2, Trism's sequel, is launching today in celebration of the 10th anniversary of the App Store.
– December 11, 2008 – Apple adds the first Top Charts section to the iTunes App Store.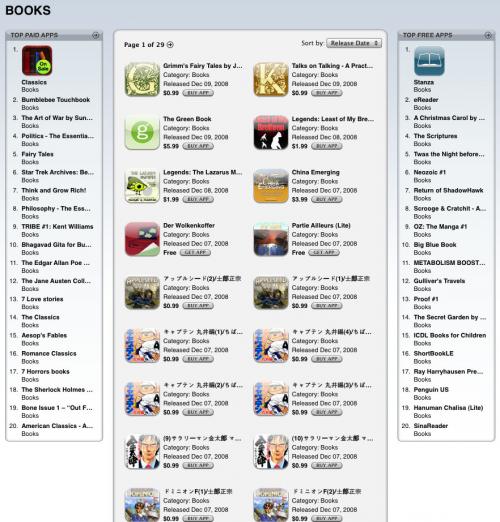 – March 30, 2009 – The iPhone wins 6 out 7 categories of the Independent Game Festival Awards at the 2009 Game Developers Conference (GDC), establishing it as a serious gaming device. Gaming has since become one of the most popular App Store categories.
– April 23, 2009 – Apple issues its first App Store apology for approving an app called "Baby Shaker, where the aim of the game was to make a baby stop crying by shaking the iPhone.
– April 24, 2009 – Apple hits its one billion apps downloaded milestone and awards a $10,000 iTunes gift card and other prizes to one lucky winner.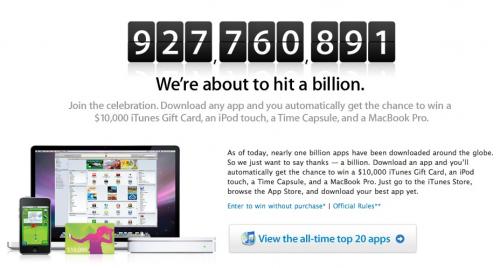 – October 15, 2009 – Apple starts allowing in-app purchases in free apps, leading to the freemium apps that dominate the App Store today.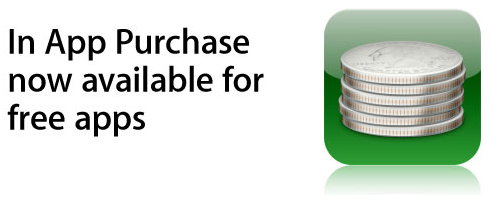 – April 3, 2010 – The first iPad is released in the United States, and along with it, the first iPad apps come out, including the original "iBooks" app for the iPad, and the first Netflix app. 2,000 iPad apps were available at launch, a number that grew to 7,000 within two months.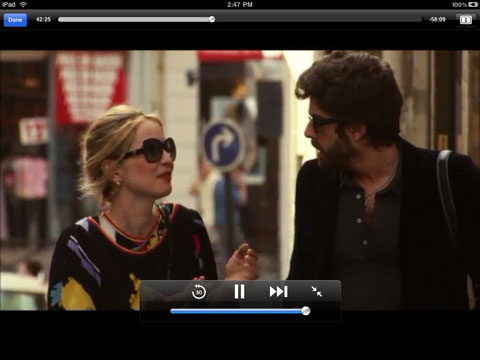 – January 6, 2011 – The Mac App Store launches and sees one million app downloads during its first day of availability.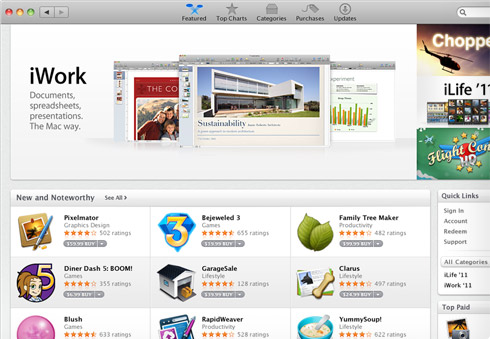 – January 22, 2011 – Apple hits a new milestone, 10 billion apps downloaded, and awards another $10,000 iTunes gift card.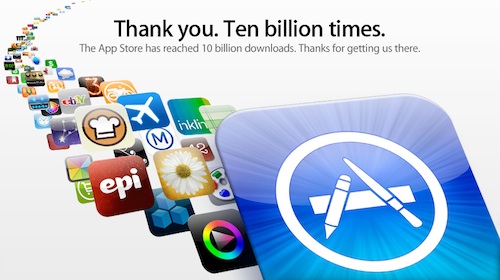 – February 15, 2011 – Apple launches subscriptions for the App Store, paving the way for App Store users to subscribe to services like Netflix with billing through iTunes. At the same time, Apple makes a rule that apps that offer subscription services must make those services available for purchase in apps, with Apple taking a 30% cut. The rule was reversed four months later.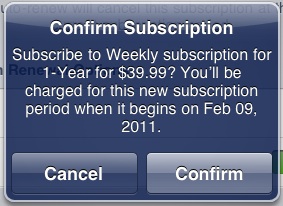 – March 10, 2011 – Apple begins requiring passwords for in-app purchases after children spend thousands of dollars within "free" apps. Apple later settles a lawsuit levied by parents affected by the lax in-app purchase rules.
– March 5, 2012 – Apple hits a new milestone, 25 billion apps downloaded. Disney's "Where's My Water? Free" was the lucky 25 billionth app that the winner downloaded.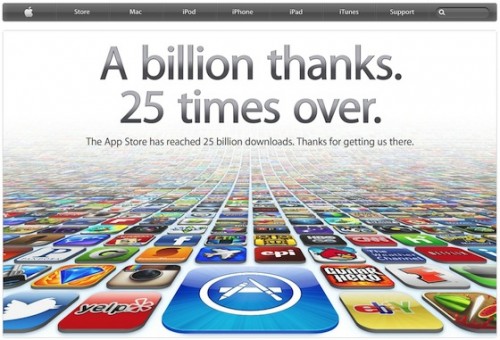 – July 13, 2012 – A hack lets people bypass Apple's in-app purchase mechanism and download apps for free. Piracy continues to be a problem throughout 2012, and even shutters one app, Battle Dungeon.
– May 6, 2013 – Apple starts heavily cracking down on app discovery apps that mimic the App Store, like AppGratis and AppShopper.
– May 15, 2013 – The App Store hits 50 billion downloads., and Apple gives more prizes away.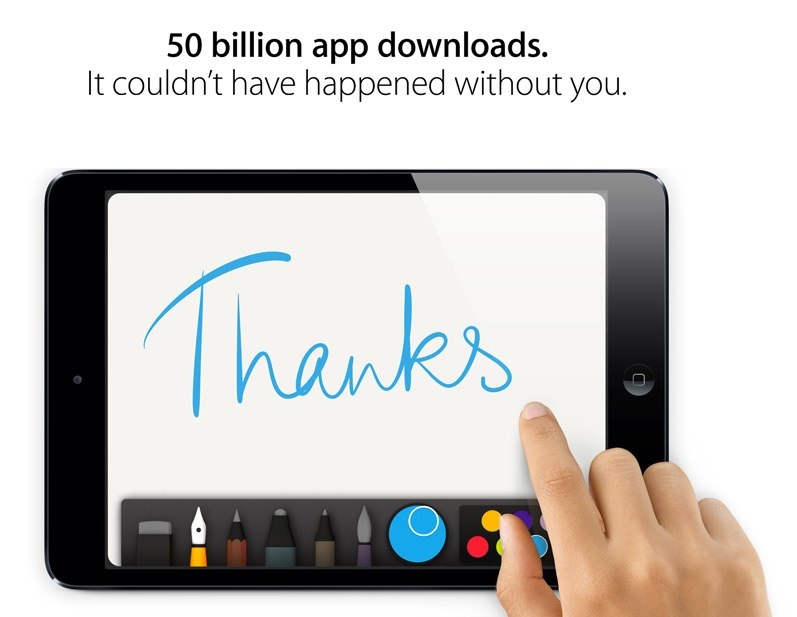 – June 10, 2013 – Apple unveils iOS 7 with an overhauled interface, including a new look for the App Store. New features include "Apps Near Me" and automatic app updates.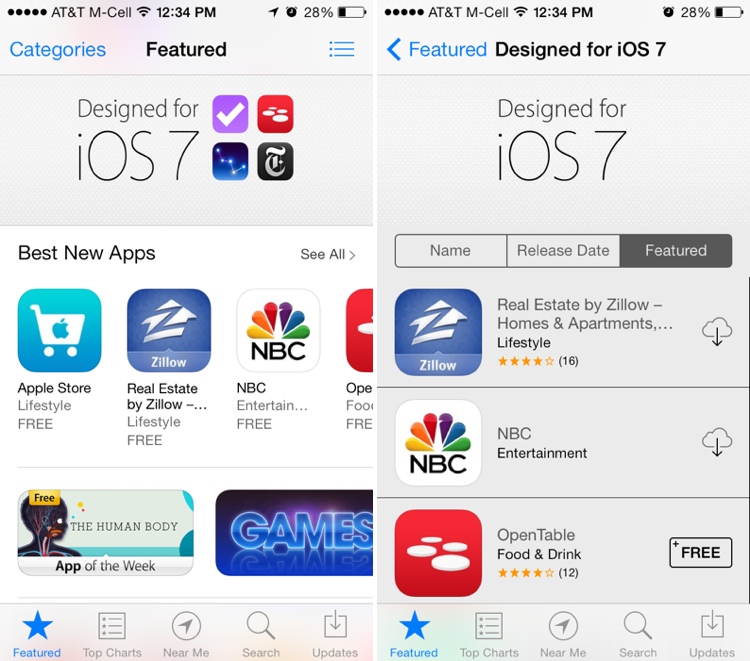 – July 26, 2013 – The Developer Center gets hacked, goes offline for eight days.
– September 19, 2013 – The App Store gains a dedicated Kids category.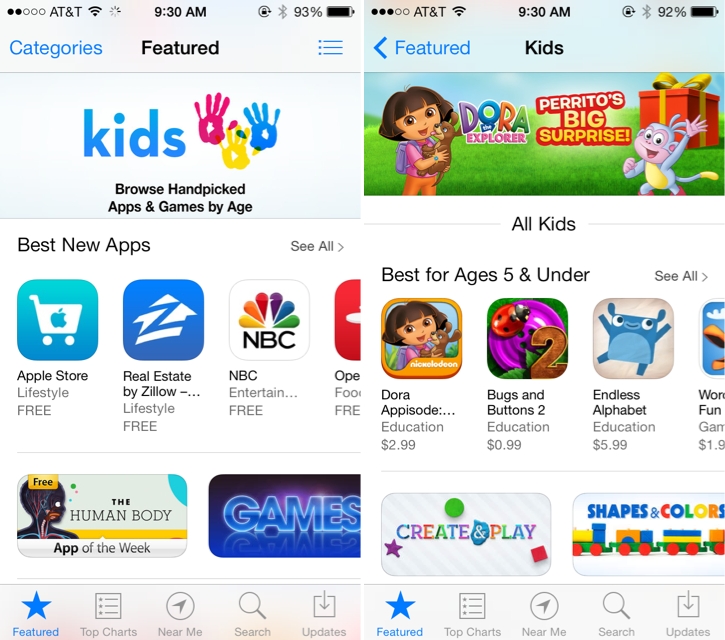 – October 20, 2014 – Apple Pay launches and can be used in apps to make purchases.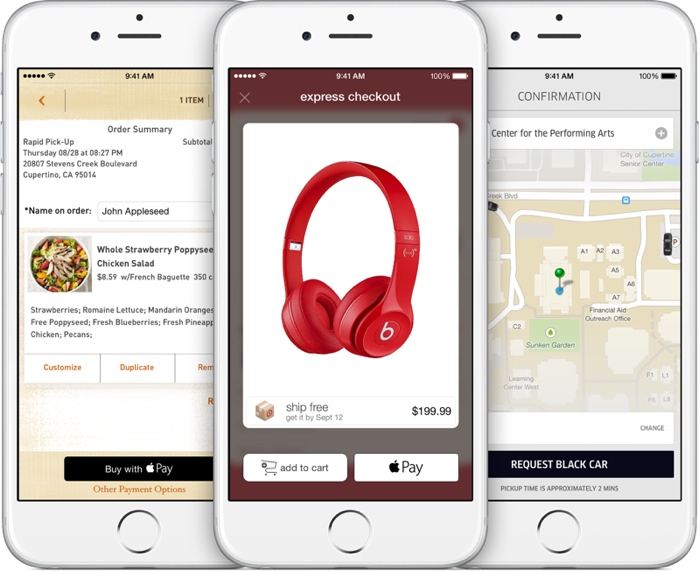 – October 23, 2014 – TestFlight launches, making it easier for developers and customers to beta test apps.
– November 19, 2014 – Apple changes the download button for all "Free" apps to "Get" to signify that free apps may have in-app purchases.
– April 25, 2015 – The first Apple Watch launches, bringing Apple Watch apps with it. Apple Watch apps are tied to iOS apps and are installed as an add-on.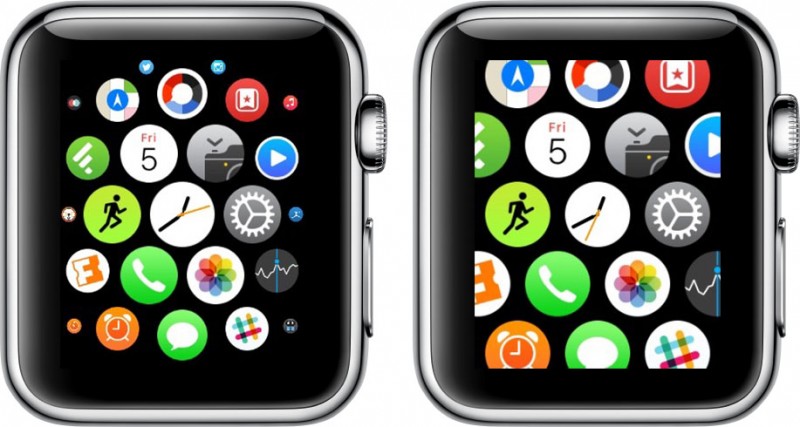 – June 8, 2015 – The App Store surpasses 100 billion lifetime app downloads.
– October 30, 2015 – The fourth-generation Apple TV with built-in App Store launches, allowing third-party apps and games to be downloaded on the Apple TV for the first time.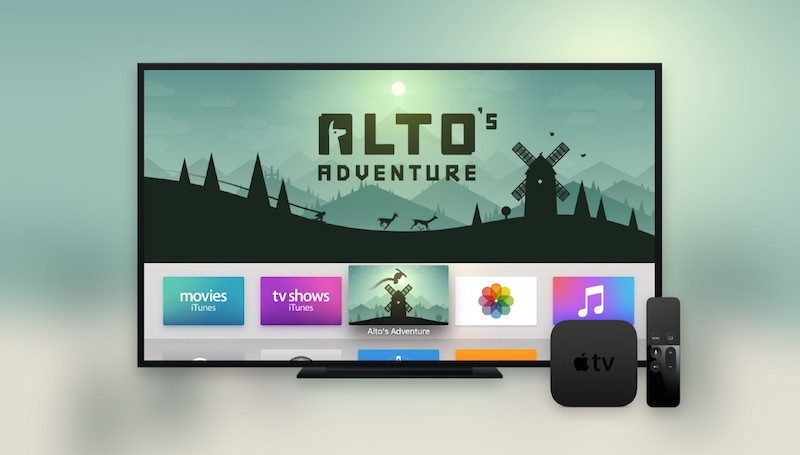 – December 17, 2015 – Marketing chief Phil Schiller takes over the App Store, which was previously led by Eddy Cue. He promises a "renewed focus and energy" on the App Store.
– June 8, 2016 – Apple announces major App Store changes, including subscription terms that cut down on Apple's fees after a year, search ads, and the availability of subscription options for all apps. This also includes a commitment to clean up the App Store, eliminating old and outdated apps.
– July 5, 2016 – Pokémon Go, the first super popular augmented reality app for iOS devices, launches. It spends 74 days as the highest grossing app in the U.S. App Store and remains popular today.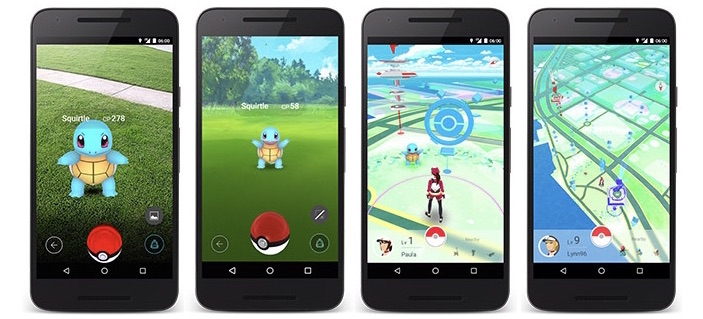 – September 13, 2016 – iOS 10 launches with Messages App Store, filled with apps that work in the Messages app and stickers.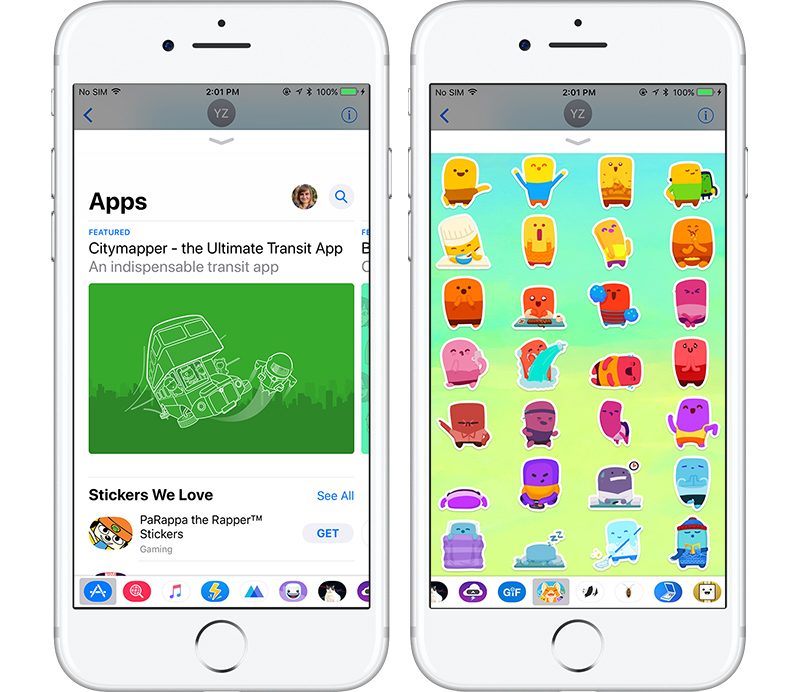 – October 6, 2016 – App Store search ads roll out, providing developers with new ways to promote their apps.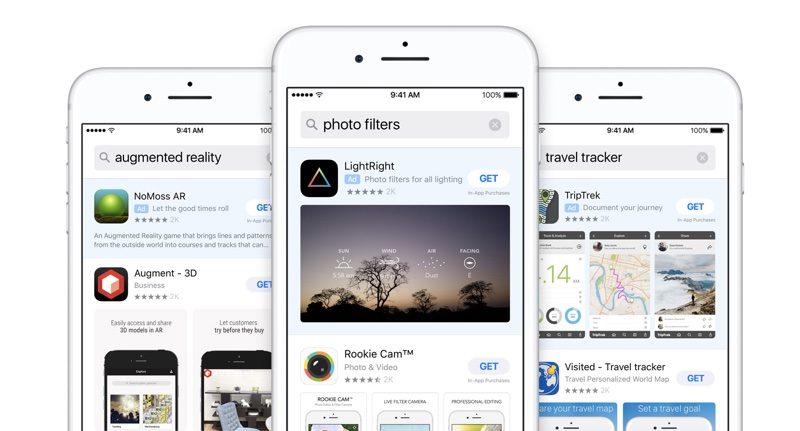 – December 15, 2016 – Nintendo launches Super Mario Run, its first app from an ultra popular franchise, which makes more than $53 million in under two months. Fire Emblem Heroes and Animal Crossing follow in later months.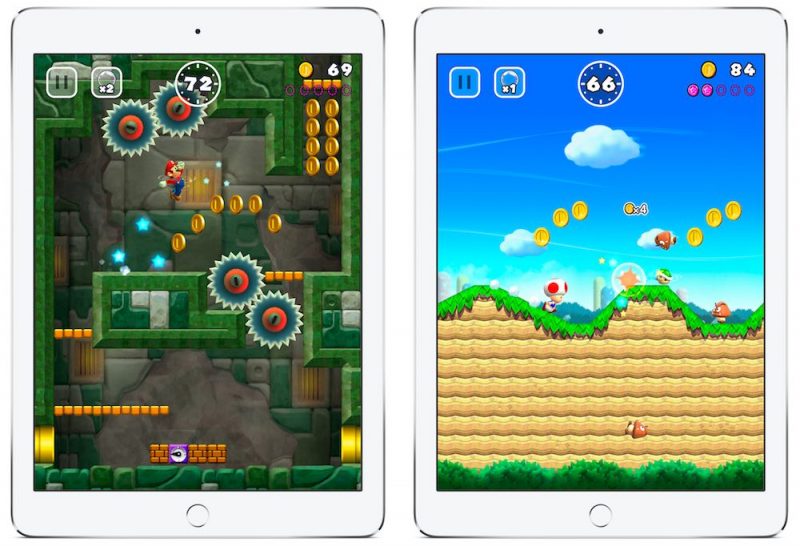 – September 12, 2017 – Apple releases iTunes 12.7, which removes the built-in iTunes App Store. Apple later released a version of iTunes 12.6.3 that retains the App Store for businesses that require desktop access to apps.
– September 19, 2017 – iOS 11 launches with an entirely revamped App Store.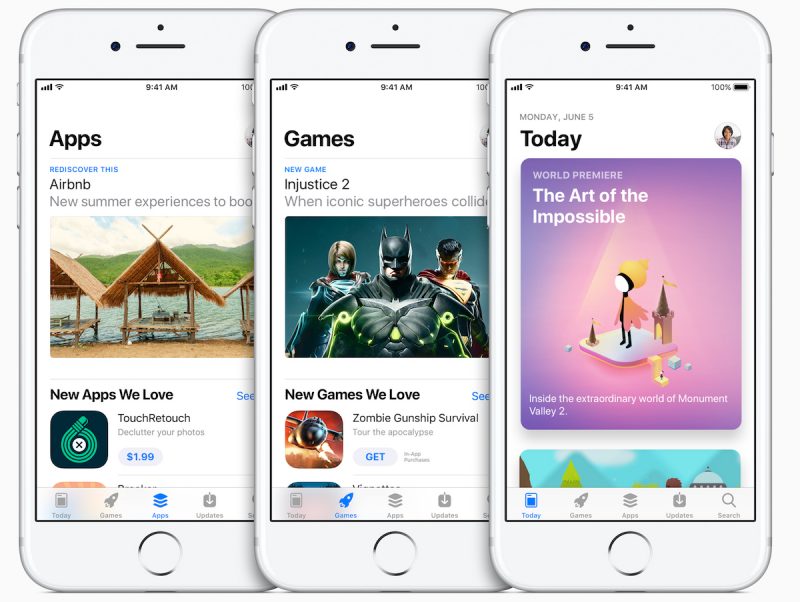 – September 19, 2017 – Alongside the revamped App Store in iOS 11, Apple launches ARKit, turning iOS into the largest augmented reality platform overnight.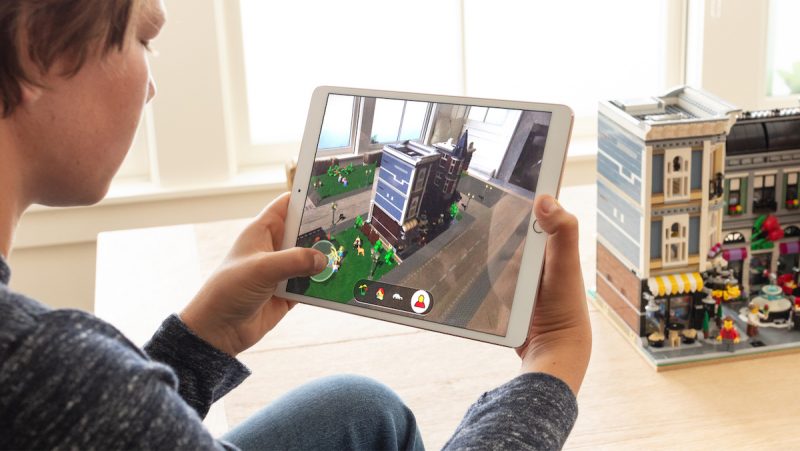 – December 11, 2017 – Apple begins allowing developers to offer app pre-orders.
– June 4, 2018 – Apple announces macOS Mojave with a major overhaul for the oft-overlooked Mac App Store that brings it in line with the iOS 11 iOS App Store redesign, which should improve app discovery and lure more developers to the platform.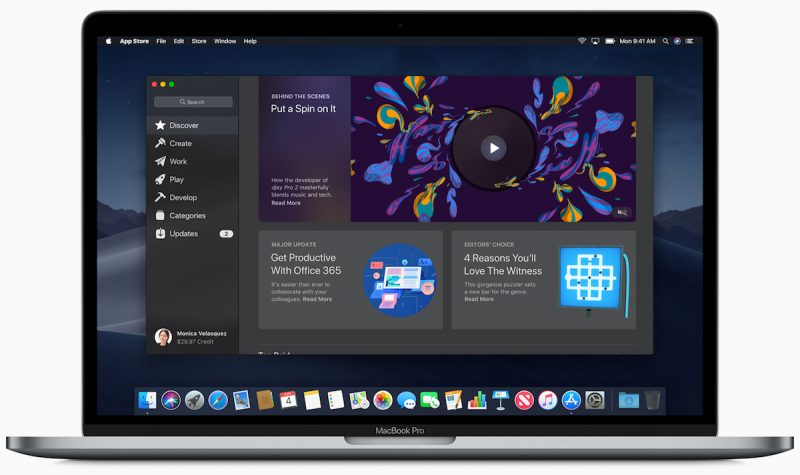 – June 5, 2018 – Apple changes its App Store guidelines, allowing all apps, not just subscription apps, to offer free trials to customers.
As of today, apps are available across all of Apple's platforms, from the iPhone, iPod touch and iPad to the Mac, Apple TV, and Apple Watch. The new iOS 11 App Store sees more than 500 million weekly visitors, and developers have earned a total of $100 billion in revenue as of June 2018. There are more than 1.3 million apps available for the iPad, 28,000 apps that offer subscriptions, and 3,000 augmented reality apps.
Apple last week published its own retrospective of the App Store, which is well worth reading as it explores thoughts from some of the most influential developers along with milestones that Apple feels are most important. In a statement, Apple's Phil Schiller said the App Store has exceeded the company's "wildest expectations."
"In its first decade, the App Store has surpassed all of our wildest expectations — from the innovative apps that developers have dreamed up, to the way customers have made apps part of their daily lives — and this is just the beginning. We could not be more proud of what developers have created and what the next 10 years have in store."
There's more in store for the App Store in the future, with some major changes in the works. In addition to the redesigned Mac App Store, Apple is developing common frameworks for iOS and Mac apps, with the eventual goal of making it easier for third-party developers to port iOS apps to the Mac.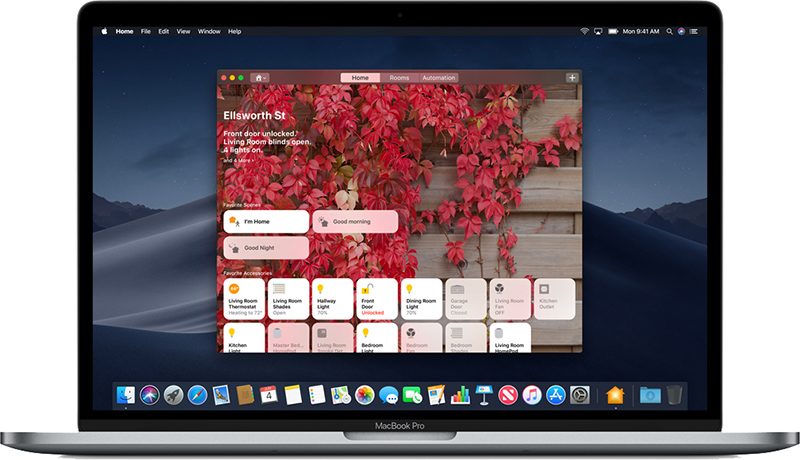 As a first step, several iOS-only apps have been brought to the Mac, including Apple News, Stocks, Home, and Voice Memos. Starting in 2019, Apple plans to let developers begin porting iOS apps to the Mac using these frameworks, which will increase the availability of Mac apps.
What changes do you hope to see Apple introduce to the App Store in the future? What was your favorite change that's been implemented so far? Let us know in the comments.
Tag: App Store
Discuss this article in our forums