Apple Registers Several New Mac and iPad Models in Eurasia
Apple has registered new tablets and Macs with the Eurasian Economic Commission (EEC) this week, indicating that refreshes could be on the horizon. The filings, uncovered by French website Consomac, are legally required for any devices with encryption sold in Armenia, Belarus, Kazakhstan, Kyrgyzstan, and Russia.

iPad Pro concept (right) by Álvaro Pabesio

The five Mac model numbers are A1931, A1932, A1988, A1989 and A1990, indicating two distinct ranges. The last three numbers may relate to expected refreshes for the 13-inch MacBook Pro (with and without Touch Bar) and the 15-inch MacBook Pro, while the first two could reference a refreshed 12-inch MacBook and a potential replacement for the aging MacBook Air, which Apple has been gradually phasing out.
Apple is rumored to be planning to introduce the new entry-level 13-inch MacBook in the second half of 2018, which would serve as a replacement for the MacBook Air. Details have been scant about the rumored machine, but it could turn out to belong to the 12-inch MacBook family, and the model numbers A1931 and A1932 potentially reflect this.
It's not known what the rumored 13-inch MacBook would be priced at, but the MacBook Air sells for $999, a price point Apple has thus far been unable to match with the 12-inch MacBook and the MacBook Pro.
The five new iPad model numbers are harder to decipher, but Apple is expected to launch new models of iPad Pro later this year featuring slimmer edges, a faster processor, a custom Apple-built GPU, and a TrueDepth camera with support for Face ID.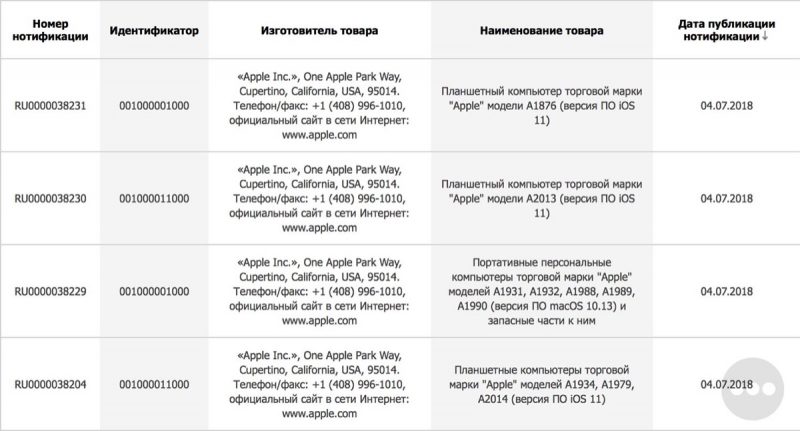 One report has claimed one of the new iPad Pro models will have a display that measures in at approximately 11 inches, which is in line with reports suggesting the device could have slimmer bezels.
Perhaps the most curious details in the EEC filing are the OS references, with macOS 10.13 and iOS 11 given for the Mac and iPad models, respectively. It's conceivable Apple could refresh its Mac line before macOS Mojave is ready, but launching new iPad Pro models before the launch of iOS 12 seems less likely, given the number of features Apple is introducing in the new OS to accommodate iPads with Face ID and no Home button.
However, strings of code have been found in iOS 11 referring to a "modern iPad", which mirrors the "modern iPhone" nomenclature Apple used to refer to the iPhone X ahead of its release, so nothing is certain.
It's also worth noting that Apple registered several new models of iPhone with the EEC back in April that have yet to appear, so extrapolating launch dates from the filing is particularly difficult. Suffice to say Apple's Mac line-up is overdue an upgrade, while new iPads are expected to launch sometime around September.
Related Roundups: MacBook Air, MacBook Pro, MacBook
Tag: EEC
Buyer's Guide: MacBook Air (Don't Buy), MacBook Pro (Don't Buy), MacBook (Don't Buy)
Discuss this article in our forums