Hands-On With the Siri Shortcuts Beta App in iOS 12
Apple last week introduced a beta version of the Siri Shortcuts app that's designed to let iOS 12 users create Workflow-style shortcuts and assign Siri commands to them, allowing a range of actions to be executed with voice-based requests.
While the app is complex, powerful, and can be explored for hours without uncovering all that it can do, we thought we'd take a quick look at it in our latest YouTube video to give MacRumors readers an idea of what to expect from Siri Shortcuts when it launches this fall.
Subscribe to the MacRumors YouTube channel for more videos.

The Shortcuts app (and the Siri Shortcuts feature) is based on the Workflow app that Apple acquired in 2017, so if you've used Workflow before, Siri Shortcuts and the dedicated Shortcuts app will be immediately familiar to you.
Shortcuts allows you to create multi-step customizable workflows that can use first-party apps, third-party apps, and Apple services and settings, which ultimately leads to a huge number of possibilities for tasks that can be streamlined and simplified. While much of this was possible with Workflow, adding Siri to the mix makes it easier to execute your shortcuts.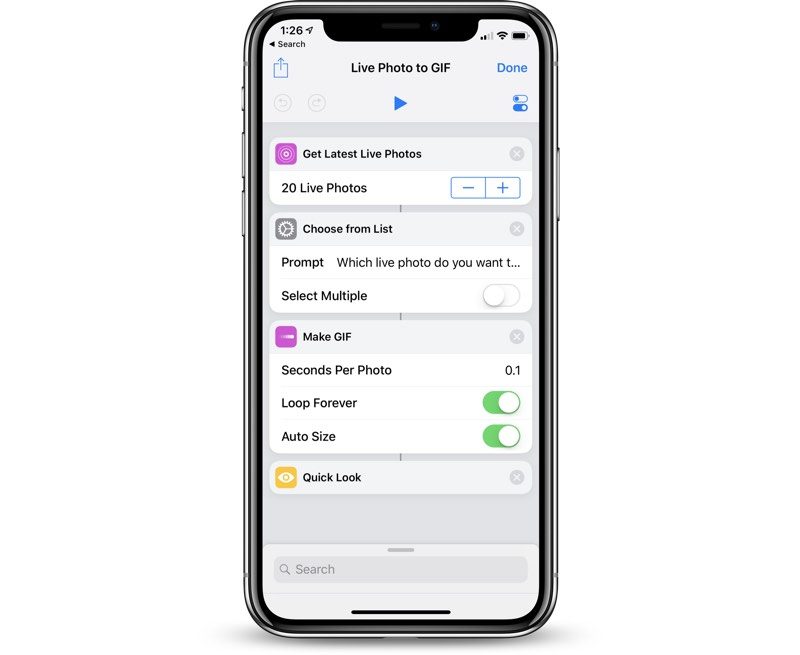 If you're unfamiliar with Shortcuts, the best way to describe the feature is through examples.
You can create a "I'm going home" shortcut that sets the thermostat at a lower temperature using the Nest app, texts your roommate that you're on the way home from work, turns on the lights at home, and opens up the Maps app with directions to your house, with the entire action activated using Siri.
Or, as Apple demonstrated during the WWDC keynote, you can make an "I'm going surfing" shortcut that uses a Siri command to get a surf report, display the current weather, calculate an estimated time of arrival to the beach, and prepare a reminder to put on sunscreen. Simpler shortcuts do things like turn a Live Photo into a GIF or surface photos you took a year ago.
When you install the Shortcuts app, you'll see that it's already populated with a huge gallery of pre-created shortcut options, along with all of your previously created Workflow shortcuts if you regularly use Workflow.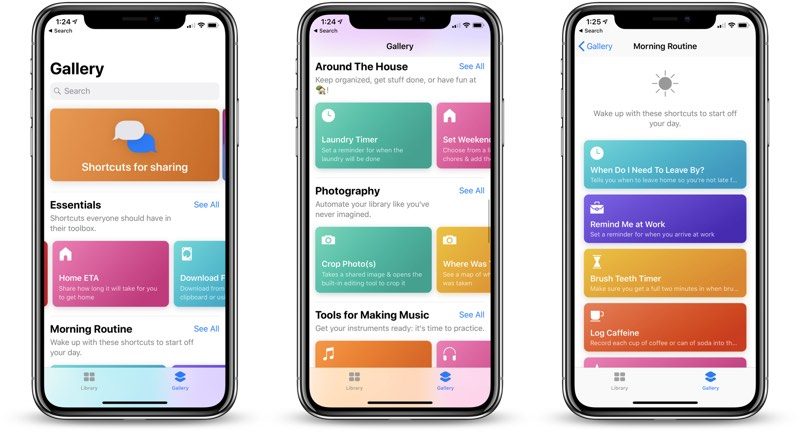 The Gallery section provides multiple suggestions on how shortcuts can be used, offering up options like "Home ETA," which shares how long it will take you to get home, "Photo Grid," which lets you select photos and organize them into a grid," "Log day One Activity," which starts a new diary entry in the Day One app," and "Make Top 25 Playlist," which creates a playlist from your 25 most listened to songs.
Shortcuts in the Gallery are organized in different sections like "Designed for Safari," "Share From Other Apps," "Essentials," "Morning Routine," "Explore Apple Music," "Stay Healthy," "Photography," "Do More Around the House," "On the Interweb," and much more, and there's a search option if you're looking for something specific.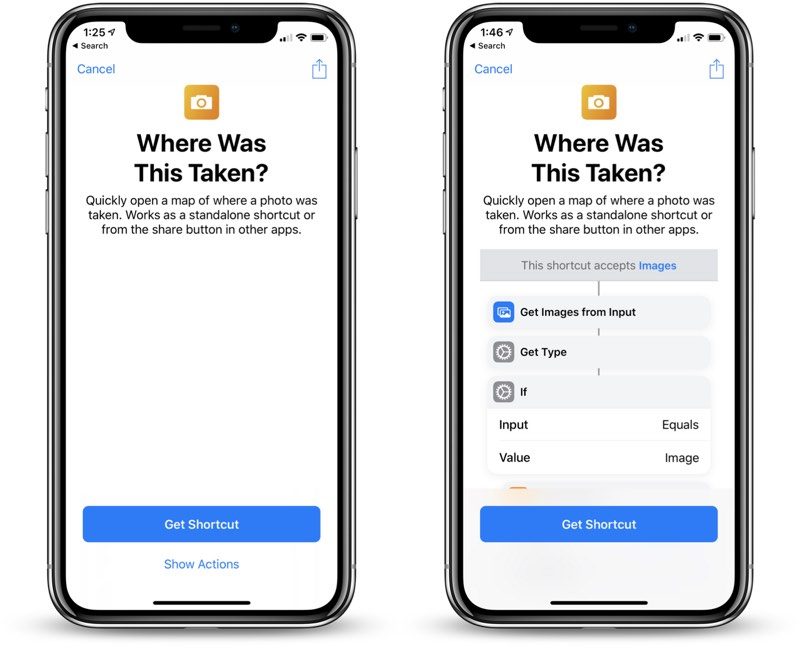 You can modify any of the shortcuts in the gallery to tailor them to your needs or you can create shortcuts from scratch. All of your shortcuts you download are stored in the Library tab, and if you tap the "+" button in this section, you can create new shortcuts.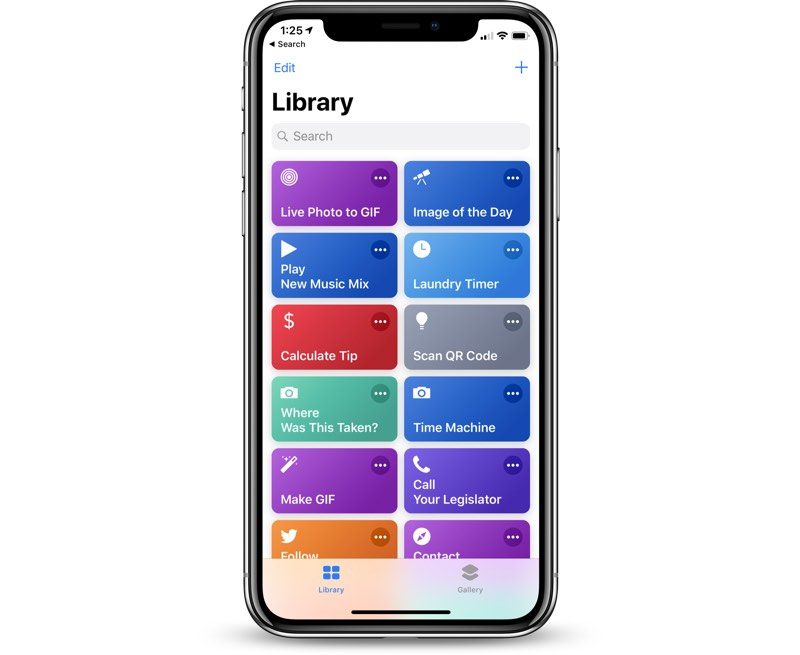 When making your own shortcuts, there are a huge range of actions and options to choose from, from both first and third-party apps. You can access actions from apps that include Health, Contacts, Calendar, Maps, Music, Photos, the web, and more, with these options set to expand over the course of the beta testing period as third-party apps begin implementing Shortcuts support.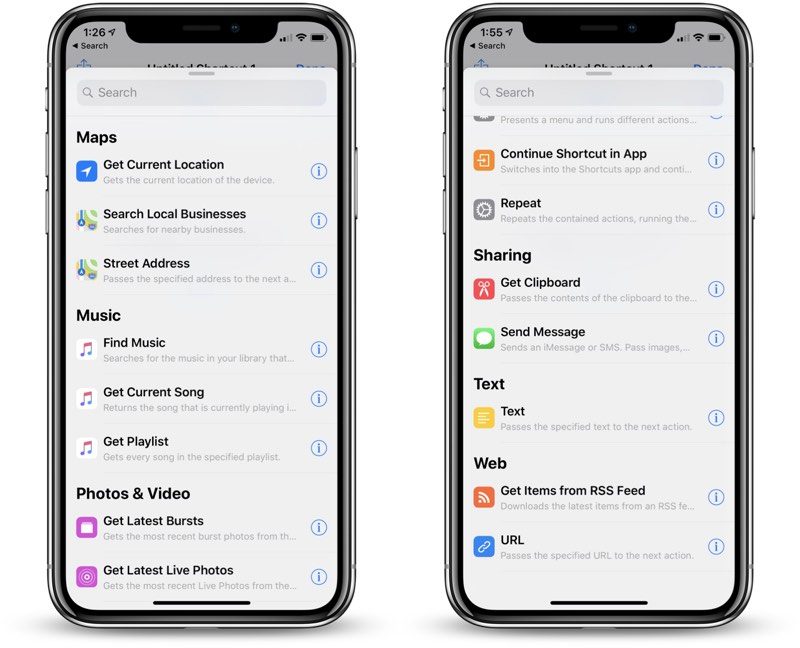 All of your shortcuts can be "Added to Siri," which assigns a personalized phrase to the shortcut. Going forward, the shortcut can then be activated using that particular Siri command.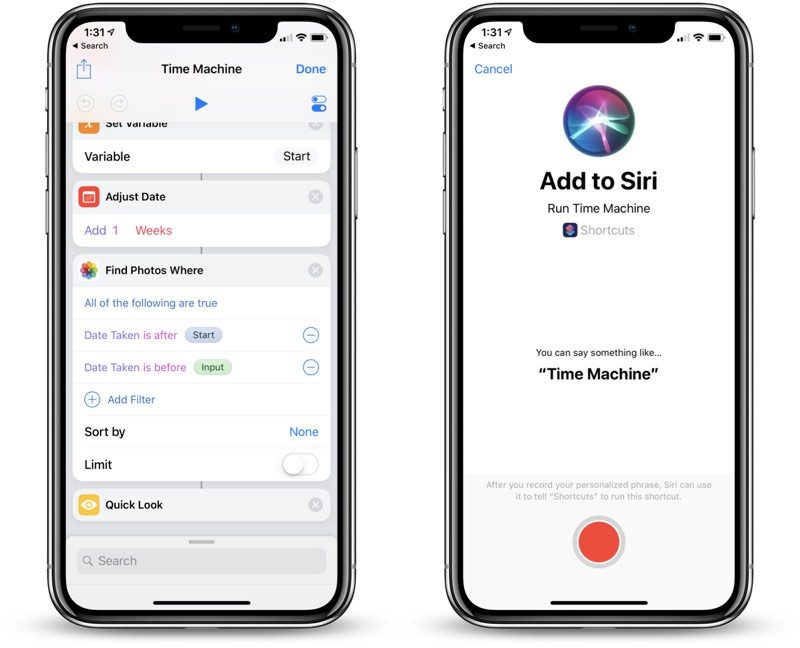 The Shortcuts app is limited to developers at the current time, and developers who have not signed up for the Shortcuts TestFlight beta can do so through the "Request" option available in the download section of the Apple Developer Center.
It is not clear if Apple will expand the TestFlight beta to its public beta testing group, but expect the Shortcuts app to launch alongside iOS 12 this fall.
What do you think of the new Shortcuts app and the Siri Shortcuts feature in iOS 12? Let us know in the comments.
Related Roundup: iOS 12
Discuss this article in our forums