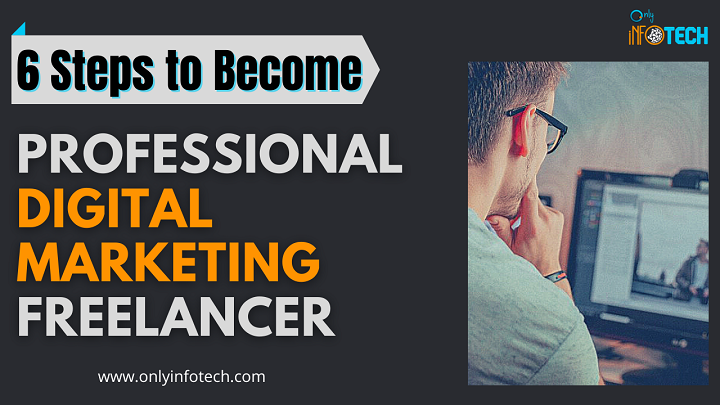 6 Steps to Become Professional Digital Marketing Freelancer
Digital marketing includes any advertising that happens online. This includes making social media posts, email blasts, and maintaining websites.
Become Professional Digital Marketing Freelancer
In this guide, we will show you 6 steps to become a professional digital marketing freelancer. It's a complete guide for beginners to freelancing or those who want to make a career switch and enter the exciting world of digital marketing.
Get Certified
Even if you have a degree in communications or marketing, it's important to show clients that your training is versatile. Certifications through a college or other provider are a great way to do this.
Make sure you get meaningful certifications that are backed by reputable organizations. An accredited college or well-known marketing organization may offer certifications in relevant topics and skills.
Read: The Scope Of SEO And Digital Marketing Expertise
It's good to learn new things, but sometimes it's better to reinforce existing skills. For example, modern website design is so complex that a low-level certification might not get you very far in your work. Focus first on everyday skills like copywriting and social media, then branch out into more expert areas if you have the time and interest.
Set up a Profile
Your image and brand is critical to your success as a marketer. If you can't market yourself, then a business won't trust you to market them.
Read: Turn Your LinkedIn Profile Into A Lead Generating Machine 6 Strategies
A basic LinkedIn profile goes a long way, but ensure that you maintain up-to-date profiles on other websites and platforms as well. Additionally, make sure they look just as good. To protect your privacy on public sites, consider posting a partial resume and only sending the full copy to prospective clients.
You'll need to include a friendly and eye-catching biography as well. Although you should keep it professional overall, you can also include fun details about your family and pets. Use your biography to illustrate that you're both knowledgeable and easy to work with.
Read: 5 Critical Digital Marketing Requirements For Freelancers
Build your business website
While working on building your digital marketing skills, you should also start a website for your freelance business.
This is an important step and something that many freelancers either skip or not give it the necessary attention.
Your website is the focal point of your business. It's the place to showcase your achievements, describe your services, and the medium for clients to contact you. It should be easy to use, optimized for SEO and professional.
Make connections with other freelancers
One of the mistakes I did, at the beginning of my career, was not connecting with other freelance marketers and digital marketing professionals. I concentrated on building my website and publishing content and did not allocate the necessary time for making 'real' connections with other colleagues.
When referring to connections, I don't mean becoming friends on a social media network but starting a 'real' conversation by email or even skype.
Tips: How To Build Networking On Right Direction
There are many reasons why you need to do this consistently.
First, you can exchange ideas and experiences with like-minded professionals.
Second, you can use your connections to promote your personal brand and content.
Third, you can get and send referrals.
Fourth, you can work with them for services you cannot provide but still keep your relationship with the client.
Fifth, being a digital marketing freelancer is a lonely job, so it's good to have someone to talk to that understands the difficulties of the business and provide advice.
Pitch Clients
Clients are often aware of their general need for services, but don't know exactly what they should look like. Propose a plan to your clients about what types of content or what kind of angle their new marketing services should have.
Read: 7 Steps To A Powerful Digital Marketing Strategy In 2020
This may require extensive research on your part, especially if the client has done little research on their current and target demographics. Although you should be prepared to do a few hours of this research for free for brand new clients, save the rest until you have a formal contract with them.
Choose your specialty
Digital marketing has a number of processes and a freelancer has limited time. If you try to offer a full range of digital marketing services from the beginning you may get lost, so it's wiser to choose a specialization.
It's better to become an expert in a couple of areas than trying to wear many hats at the same time.
Read: 5 Tips For Students Starting A Career In Marketing
As you gain more experience and clients, you can expand your offerings. You'll also learn what type of services are more profitable and easier to handle and adjust your processes accordingly.
The different areas of digital marketing you can specialize in are:
The way to become an expert in a digital marketing disciple is the same as before i.e. learn the theory by following a course or reading reliable resources on the Internet and apply the different techniques on your own websites.
While in the 'learning phase' try to come up with a plan and a checklist so that when the time comes to apply the same techniques on a client website, you'll know exactly what to do.
Getting All the Benefits of Freelancing
People are drawn to marketing freelancing because the work is varied and usually flexible. Whether you're experienced in marketing or a relative novice, the starting point is the same. Make sure clients are aware of your skill set and expand your repertoire if needed. From there, you can steer your new career to any specializations and niches you find yourself drawn to.
If you want to know freelancing cost, Our article 12 Hidden Costs And Facts For Freelancers is very useful for you.